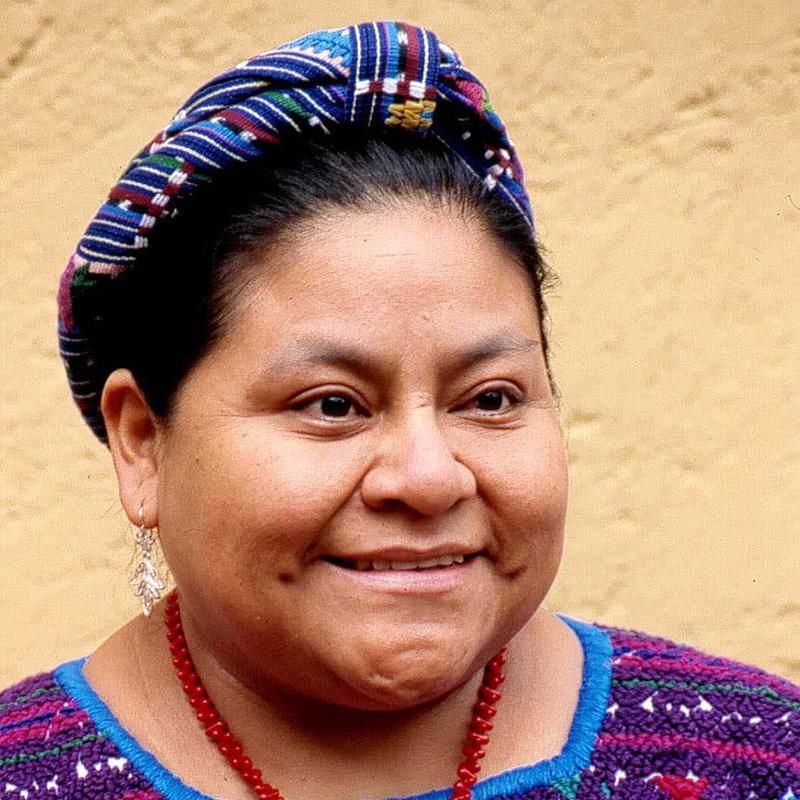 Rigoberta Menchú Tum
1992 Nobel Peace Prize-winner for her work on social justice and ethno-cultural reconciliation in respect of the rights of indigenous peoples.
Rigoberta Menchú Tum was born in 1959 to a Mayan family in Chimel, a mountain village in Guatemala. The Mayan people could not grow enough food in the mountains to survive, so most years her family left their community to work on cotton and coffee plantations.
While her family struggled to survive, Guatemala also struggled as a country. In 1954, the United States government helped overthrow Guatemala's democratically elected government. The Guatemalan army took power and ushered in more than 30 years of dictatorship, war, and violence, during which 200,000 Guatemalans were murdered. The military brutally targeted the Mayans, including a campaign that destroyed 450 Mayan villages and displaced one million refugees.
Rigoberta lost both her parents, two brothers, a sister-in-law and three nieces and nephews to violence in Guatemala. She worked with the Committee of the Peasant Union to secure basic rights for the Mayan people, including fair wages and protection of their land. From 1980-1981, she participated in non-violent demonstrations and helped educate Mayan peasants to resist military oppression.
In 1983, she told her life story to Elisabeth Burgos Debray in a series of interviews that became the book I, Rigoberta Menchú. The book drew international attention to the horrors occurring in Guatemala and led to her recognition as a world leader for indigenous rights.
In 1996, Guatemala's 36-year civil war ended with a peace accord. Rigoberta fought to have the Guatemalan political and military establishment tried in court, and ran for President of Guatemala in 2007 and 2011. She also established WINAQ, the first official indigenous-led political party in national history.
Rigoberta Menchú Tum has joined her sister Nobel Peace Laureates to form the Nobel Women's Initiative, to shine the light on women and children's rights around the world and she has been a member of PeaceJam since 1996.